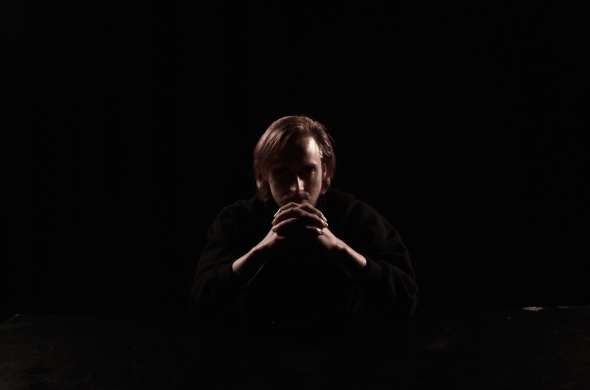 Bedtime Stories
Urland / Productiehuis Rotterdam
| | |
| --- | --- |
| Tekst, spel, regie | Thomas Dudkiewicz |
| Vormgeving | Marijn Alexander de Jong |
| Muziek | Jimi Zoet, Tomas Loos |
| Schrijfcoach | Joachim Robbrecht |
"Lilly [Thomas Dudkiewicz], is a young girl blessed with an extraordinary lineage. Her father, Max [Thomas Dudkiewicz] and her grandfather, George [Thomas Dudkiewicz] are both gifted storytellers. Every night, before bed, she gets to wander off into an unexplored universe created solely for her. When Bob [Thomas Dudkiewicz], Max's boss, threatens to stop the creation of new stories, these generations combine their imaginations to create the final story. The one that lasts for ever."
Urland sends forth Thomas Dudkiewicz to embody their next performance.
Thomas Dudkiewicz is an artist who has delved further into the realm of films, games and books than anyone. His writing is inspired by literally every genre. His next piece, a coming of age radio play in theatre is one of many explorations to discover the power behind the narrative.
De voorstelling werd genomineerd voor de BNG Bank Nieuwe Theatermakersprijs 2016. Uit het juryrapport:
"Een hypnotiserend live hoorspel van Thomas Dudkiewicz, een meesterverteller die complete werelden weet op te roepen met zijn stem. Gewapend met een vlekkeloos Amerikaans accent, een geluidscomputer en slechts enkele lichteffecten vertelt Dudkiewicz een verhaal doorspekt met fantasy-elementen dat opvallend veel zegt over de wereld waarin wij allen leven. Dankzij een uitmuntende soundscape van Jimi Zoet en de virtuoze manier waarop Dudiewicz schakelt tussen de personages wordt het publiek volledig meegesleept."
Luister hier een fragment uit de voorstelling.