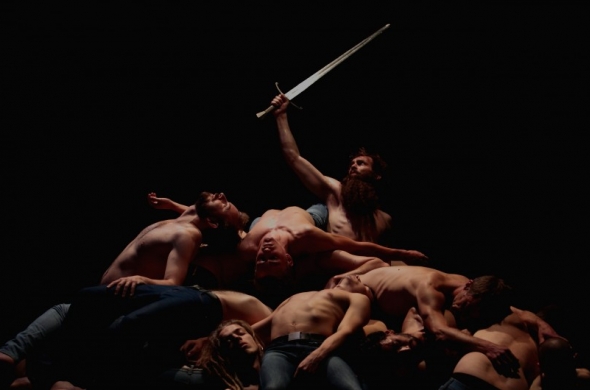 Les mémoires d'un seigneur ou l'homme disparu
| | |
| --- | --- |
| Concept en regie | Olivier Dubois |
| Muziek | François Caffenne |
| Dans | Sébastien Perrault |
| Supported by | Creative Europe, Create to Connect |
Herinneringen van een heer, of de verdwenen man gaat over een man van grote eenzaamheid. Een triomferende koning die door het volk van zijn wezen wordt beroofd.
In drie tijdsperioden vertelt de Franse choreograaf Olivier Dubois zijn verhaal: Glorie, Verval en Afscheid. In zijn glorietijd spreekt de koning Frans, Engels, Duits en Russisch. Hij is een held met ambitie, een geliefde vorst aan het hoofd van een beschaving. Bij het verval hoort paranoia, barbarij, machtsmisbruik en angst. De taal verandert naar Grieks, Latijn, Aramees en Oud-Noors. Afscheid is de zwanenzang van de heerser. Met het verdwijnen van de man, van wie niet meer overblijft dan een droom, een herinnering, klinkt alleen nog een lied.
In samenwerking met Productiehuis Rotterdam komt hij naar Rotterdam met deze productie waaraan veertig mannen uit Rotterdam meewerken. Dubois heeft een achtergrond in de beeldende kunst, was jaren een van de belangrijkste dansers van Jan Fabre en danste bij Sascha Waltz. Van deze grensoverschrijdende choreograaf waren eerder Souls en Tragédie in Rotterdam te zien.
//
Memories of a lord or the man who disappeared is about an immensely solitary man. A victorious king who is robbed of his soul by the people. In three time spans, French choreographer Olivier Dubois tells his story: Glory, Decline and Farewell. In his glory days, the king speaks French, English, German and Russian. He is an ambitious hero, a monarch who is loved and a ruler of a civilization. With his decline comes paranoia, barbarity, abuse of power and fear. The language changes to Greek, Latin, Aramaic and Old Norse. Farewell is the ruler's swan song. The man, leaving nothing behind but a dream, disappears and only a song can be heard.
In cooperation with Productiehuis Rotterdam, Dubois is bringing this production, in which forty Rotterdam men collaborate, to the city. He has a history in visual arts, was one of Jan Fabre's main dancers and danced with Sascha Waltz. At the Centre Choregraphique National Roubaix, he makes sensational productions in which he connects different scenes, disciplines and performers.