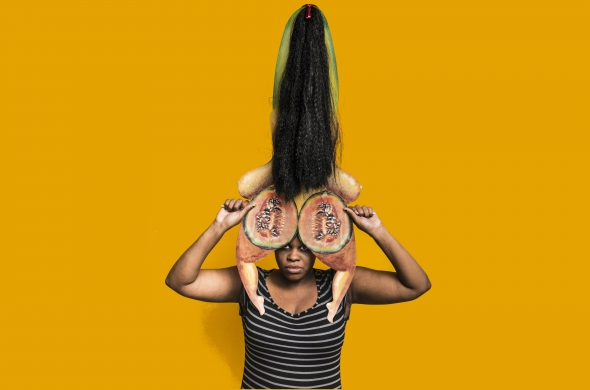 The Venus Project
| | |
| --- | --- |
| program coordinator / director | Milone Reigman |
| reading group | Amal Alhaag |
| dramaturg applied | theatre Connie Bell |
| script | Milone Reigman |
| scenography / masks | Shertise Solano |
| lighting design | Paul van Laak |
| campagne image | Luis Rios Zertuche |
| coproducer | Productiehuis Rotterdam, Framer Framed |
| special thanks | Dutch Performing Arts |
The Venus Project is a immersive theatre project: a living archive, conversation and performance which facilitates a critical space to examine, discuss and re-interpret the historization, imagination and representation of the black female body. Colonial ideology has shaped the identity of the black female. Sarah Baartman – a.k.a. the Venus Hottentot - functions as the embodiment of these colonial ideas. Through her life, lineage and legacy Sarah Baartman offers an alternative reading that connect to the diasporic black experience: where displacement, representation issues connect with question of social injustice.
The Venus Project investigates these global effects embedded in a local context. The Venus Project is a one-day event that connects to the current global conversations on race, gender, sexuality, voyeurism and migration. It uses theoretical and theatrical methodology to devise a day of exchange where theatre, visual art, spoken word and dialogic events find new ways to connect and question the historical impact of Sarah Baartman on the global black identity.
The Venus Project is a traveling research based event that consist of elements which includes artist interventions depending on the local context.