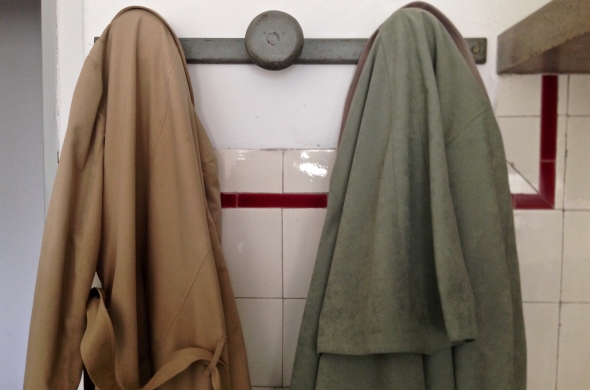 Turning Backs
| | |
| --- | --- |
| Concept | Rita Vilhena and Lígia Soares |
| Creation | Diogo Alvim, Lígia Soares and Rita Vilhena |
| Video animation | Mariana Castro |
| Production (Portugal) | Máquina Agradável |
| Production (Netherlands) | Baila Louca |
| Coproduction | Productiehuis Rotterdam |
| Residencies | Devir-Capa, Alkantara, Polo Cultural das Gaivotas |
| Support | Mala Voadora, GDA - Gestão dos Direitos do Artistas |
TURNING BACKS is a project seeking the paradox: we are all included in exclusion.
To be back to back is to lay back on someone to whom we just turned our backs. This position will reflect on a reality where you cannot look at each other and you cannot avoid touching.Turning Backs follows The Lung, the previous collaboration of Rita and Lígia. Their projects seek to create performative spaces made of bodies and action, regardless of whether it belongs to the performer or the audience. The condition of the spectator is as interesting and strongly representative as the condition of the performer.
NEDERLANDS
Turning Backs is een paradox – wij zijn allemaal onderdeel van het buitensluiten
Rita Vilhena en Ligia Soares zijn elkaar al in verschillende projecten tegen gekomen en dagen elkaar nu uit in Turning Backs, het vervolg op The Lung. Zij onderzoeken de paradox; we sluiten niemand uit in onze exclusiviteit. Zoals we van Rita gewend zijn prikkelt, provoceert en nodigt zij het publiek uit om deel te nemen in haar performatieve wereld. In hun projecten zoeken Rita en Lígia een performatieve ruimte van lichamen en acties, zowel van de performers als van het publiek. De rol van de kijker is net zo interessant en representatief als die van de performer.
Engels gesproken